CONECA Michigan State Reps Offer Free Error-Variety Coin Exams ...
At Michigan State Numismatic Society Spring Convention!
April 8-9-10, 2016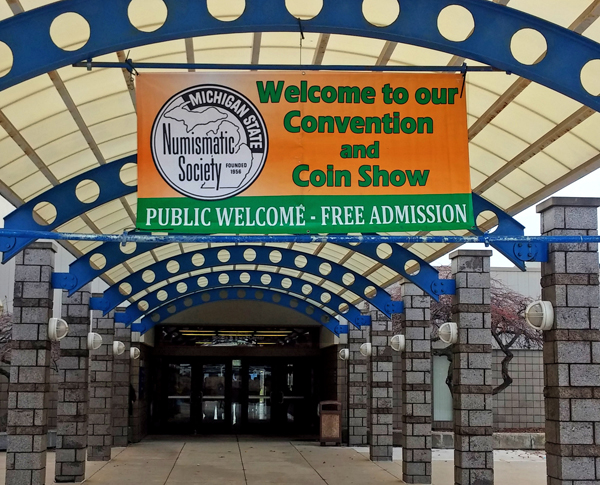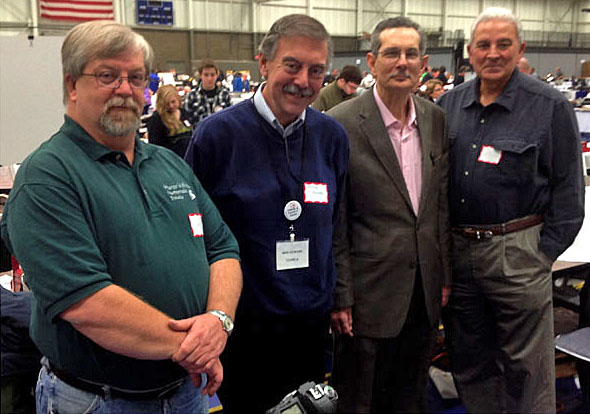 James Motley, Michael Howard, Ken Potter & Al Raddi
Ken Potter
CONECA Michigan State Representatives, Ken Potter, James Motley, Al Raddi and Michael Howard along with the aid of CONECA member Richard Stachowski will be offering free error-variety coin examination services at the Michigan State Numismatic Society Spring Convention on Friday April 8th through Sunday April 10th. Ken will be there the for the entire show and the others will be there according to their schedules.

On display will be coinage dies, hubs, collars, punches and other tooling used in the minting process for a hands-on examination. Many of the dies will show errors such as clashed dies, cuds, shattered dies, doubled dies, etc.

Potter will also be offering macro and photomicrography for coins that quality for future articles and will be offering autographed copies of his latest book, Strike It Rich With Pocket Change 4rd Edition that he coauthored with Dr. Brian Allen along with copies of the Cherrypickers' Guide To Rare Die Varieties 5th Edition Volume II, by Bill Fivaz and J.T. Stanton, which as editor, he will also autograph.

Application forms for membership in the Combined Organizations of Numismatic Error Collectors of America along with sample copies of their journal will be available.

Potter asks persons who intend to bring coins for an opinion to limit themselves to about five coins per person. He stated, "We may be able to fudge a bit on the five-coin rule but we cannot render opinions on boxes containing hundreds of coins."

The Michigan State Numismatic Society Spring Convention will be held at the Macomb County Community College.


The feature attraction of this show is the wide variety of dealers including most from outside the metro area from all around the country. This offers an opportunity for local dealers and collectors to pick through fresh inventories.
Early-Bird P

asses
are available and recommended to those who plan to attend with an aim at cherrypicking. Early-Bird passes are $50 and allow anybody entry on to the floor a day early during dealer set-up on Thursday between 3:00 PM and 7:00 PM and on Friday starting at 8:00 AM. Early-Bird entry is at the front door on Thursday and at the back (left side) door on Friday.
MSNS Spring 2016 Convention & Coin Show
Macomb Community College - South Campus
14500 East 12 Mile Road - Building P
Warren, Michigan
Show hours 10am - 6pm April 8, 9 and
10am - 3pm on April 10